Dental Implants in Mobile, AL - Mobile Family Dentistry
When Would Dental Implants Make Sense For Me?
If you are missing one or more teeth, dental implants may be a great option to restore your smile! Dental implants are changing people's lives because they are designed to support replacement teeth that look and feel like your natural teeth. They offer people who have lost teeth the ability to regain their chewing function and ability to eat the foods they like. Dental implants can be life changing for denture wearers offering a chance to regain their ability to chew foods like they did with their natural teeth. Your Mobile, AL dentist understands that patients with dental implants can smile with confidence!
What Makes Dental Implants Better Than Similar Procedures?
Dental implant supported restorations are a better alternative than removable prosthetics like complete dentures and removable partial dentures. Dental implants aid in preserving facial structure, avoiding the bone deterioration that occurs when teeth are missing. Implants may also be a better alternative than bridges because no additional teeth need to be altered in order to replace the missing tooth. Implants are not always the best option and it is important to consider the benefits and risks of all options to replace your missing teeth.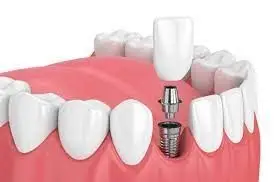 What Does The Process Of A Dental Implant Procedure Entail?
The process of replacing missing teeth with dental implant supported restorations takes a few months. Our Mobile, AL office works with an experienced surgical specialist who actually places the dental implants. The surgeon places the implant and the gums and supporting bone must be allowed to heal for about 3-6 months. During this time the jaw bone will form around the implant screw in a process called osseointegration. During the healing time, you may have a temporary restoration placed for cosmetic s as well as being to eat and speak normally.
The next step after the implant has been allowed to heal is to place an abutment on the implant. The abutment serves as a foundation for your new tooth. The placement of the implant abutment is an important step in the process and once it is in place, we take an impression to make a mold that can be sent to the dental laboratory to create your permanent restoration. Once your final restoration is returned from the dental laboratory you will return to the office for the placement of the permanent restoration. Your smile will look just like it used to before you lost the tooth and the implant will function and feel just like one of your own natural teeth. This is the process for replacing a single tooth, replacing multiple teeth can require additional steps and more appointments.
Are you interested in getting dental implants with Mobile Family Dentistry? Call our office located in Mobile, AL at (251) 661-6100 to learn more and schedule an appointment!