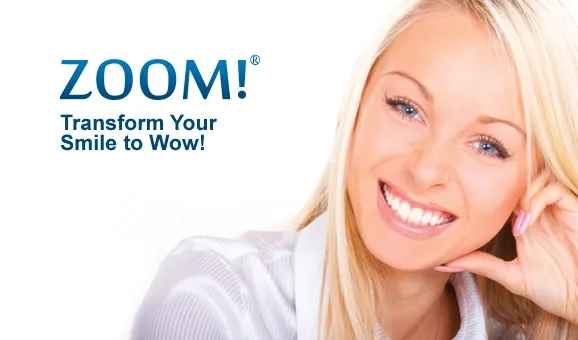 Are you looking for a fast way to dramatically change your smile? The ZOOM! In-Office Whitening System may be just what you are looking for! The instant whitening results you've been wanting can be achieved in a little over an hour with this safe and effective system. We use a specially designed light to activate ZOOM! Whitening Gel in order to break down stains on your teeth and put the sparkle back into your smile!
Unfortunately over time our teeth darken as a result of drinking beverages such as coffee, tea, wine, and soft drinks. Smoking is another case for stained teeth. Teeth whitening is a great way to restore the natural color of your teeth or even make them lighter if you would like. The ZOOM! Chairside System allows us to whiten your teeth about 6-10 shades in a little over an hour.
Although the ZOOM! Whitening System can help almost anyone get whiter, brighter teeth; it may not be as effective for everyone. We suggest making a complimentary cosmetic consultation prior to scheduling a ZOOM! Treatment so we can decide together if it is right for you.